+ JMJ +
It's Mother's Day today! Aside from eating out, I requested that our family go see the Pre-Raphaelite Exhibit at the National Gallery of Art, which ends next weekend. So we went, and it was one of the better exhibits that the NGA has presented in recent years.
The last 2 exhibits we saw -- "
Warhol: Headlines
" (the NGA's first exhibit dedicated solely to Andy Warhol from September 25, 2011 – January 2, 2012) and the Roy Lichstenstein retrospective (
October 14, 2012 – January 13, 2013)
-- had interesting pieces, especially some of the more famous ones.
A Boy for Meg, 1962
Oil on canvas
Andy Warhol (1928–1987)
"Hot Dog with Mustard," 1963
by Roy Lichtenstein
"
But as a whole, those exhibits weren't as engaging as this one, which was o
rganized by Tate Britain in collaboration with the National Gallery of Art, Washington, DC.
The only things I didn't like about the Pre-Raphaelite exhibit were:
1. The anti-Catholic descriptions of a few paintings.
2. The Pre-Raphaelite woman look (especially featured in Dante Gabriel Rossetti's paintings, like the one below)
-- big-boned women with wide faces, wide cheekbones, big lips, big eyes, big hair parted in the middle and flaming red hair -- they look like brazen hussies! I prefer fine-boned women, who look more feminine, rather than masculine.
Otherwise, we all enjoyed the exhibit!
Overview from the
National Gallery of Art
:
The first major survey of the art of the Pre-Raphaelites to be shown in the United States features some 130 paintings, sculptures, works on paper, and decorative art objects. The young members of the Pre-Raphaelite Brotherhood, formed in 1848, shook the art world of mid-19th-century Britain by rejecting traditional approaches to painting. Combining scientific precision, an innovative approach to subject matter, and brilliant, clear colors, Pre-Raphaelitism was Britain's first avant-garde art movement
.
In September 1848, three artists in England created the "Pre-Raphaelite Brotherhood" — Dante Gabriel Rossetti, William Holman Hunt and John Everett Millais — a small group that ultimately grew to seven.
They had a "commitment to fundamental change," art historians, Tim Barringer of Yale and Jason Rosenfeld of Merrymount Manhattan College, write in the exhibition's book. They wanted to break with the conventional styles of the Royal Academy established in 1768 by Sir Joshua Reynolds.
"They believed that art had become decadent, and rejected their teacher's belief that the Italian artist Raphael represented the high point of aesthetic achievement," said Diane Waggoner, associate curator of the National Gallery.
"Instead they looked to earlier art from before the time of Raphael — or 'pre-Raphael' — whose bright colors, flat surfaces, and sincerity they admired."
The young painters, between 18 and 22, looked "to history and to literature for inspiration," taken from the writings of Dante, Shakespeare and the Bible.
These canvases, though diverse in subject, embodied the Brotherhood's initial aims in their keen observation of the natural world and depiction of subjects that lead the viewer to contemplate moral issues of justice, piety, familial relationships, and the struggle of purity against corruption.
Here are some of my favorites:
Jesus Washing Peter's Feet,
1852-56
Oil on Canvas
by
Ford Madox Brown
Source:
Fine Art Connoisseur
From
Tate Britain
:
This picture illustrates the biblical story of Christ washing his disciples' feet at the Last Supper. It has an unusually low viewpoint and compressed space. It originally depicted Jesus only semi-clad. This caused an outcry when it was first exhibited, and it remained unsold for several years until Ford Madox Brown reworked the figure in robes. Brown was never invited to join the Pre-Raphaelite Brotherhood, but he was a close associate of the group. Several members modelled for the disciples in this picture, and the critic F. G. Stephens sat for Christ.
Peace Concluded
,
1856
by
John Everett Millais
From the
Minneapolis Institute of Arts
website: At first glance this appears to be a family portrait complete with realistic details of middle-class English decor. In fact, it is a staged scene of domestic harmony, celebrating the end of the Crimean War. The father, a wounded officer, holds a copy of the
Times
announcing the war's end. One daughter clasps his combat medal. On the mother's lap, four animals from the toy Noah's Ark represent the four belligerents: Britain (lion), Russia (bear), the Ottoman Empire (turkey), and France (rooster). The girl at the left holds a dove with an olive branch in its beak, a symbol of peace. Millais belonged to a group of English painters called the Pre-Raphaelite Brotherhood. Their work emphasized close observation of nature and the depiction of contemporary events.
Portrait of a Girl, Sophie Gray
by John Everett Millais
From the
Pictify
website: This hypnotic veiled portrait of melancholy portrays the younger sister of his wife Effie Gray, 14 years old at the time. It's an unusual portrait ... Millais did not exploit light to his advantage ... to show us a noble maiden. (He instead) portrays a bourgeois girl with a disconcerting expression, vulnerable and provocative .... The fleshy mouth is clenched in a gesture of defiance, her chin tilted upward with determination. His blends dark hair with the background bordeaux .... Pale skin is in stark contrast to the reddened cheek; the coat of arms embroidered heart on the chest suggests the awakening of female sexuality and desire. The painting was created in the fall of 1857, when Effie was living with her parents and sisters in the House in Perth.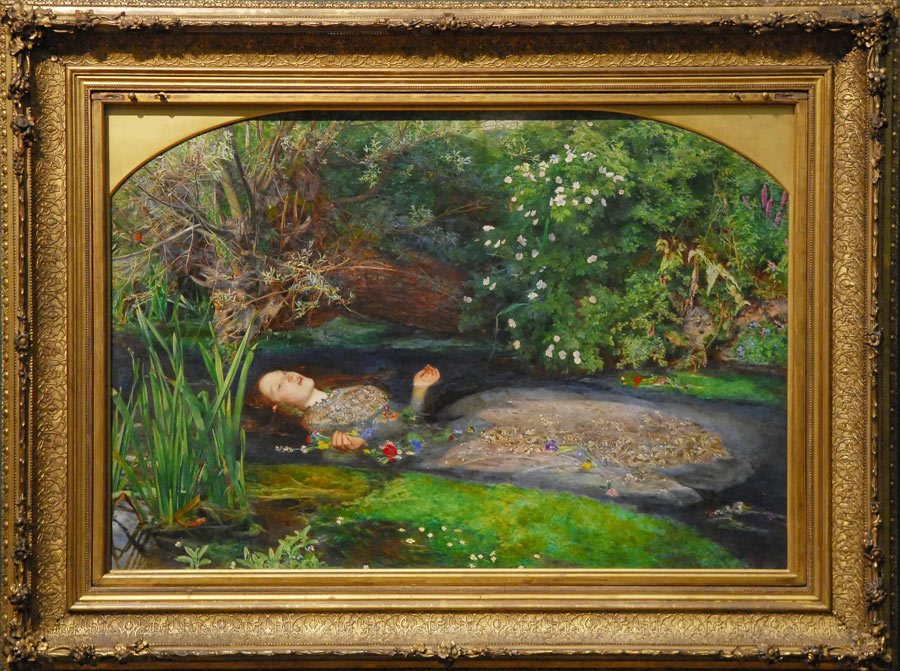 Ophelia, 1851-52
Ophelia, 1851-52
The painting depicts Ophelia, a character from Shakespeare's play
Hamlet
, singing while floating in a river just before she drowns. The scene is described in Act IV, Scene VII of the play in a speech by Queen Gertrude.
The episode depicted is not seen onstage, but exists only in Gertrude's description. Ophelia has fallen into the river from a tree overhanging it, while gathering flowers. She lies in the water singing songs, as if unaware of her danger ("incapable of her own distress"). Her clothes, trapping air, have allowed her to temporarily stay afloat
"Her clothes spread wide,
And, mermaid-like, awhile they bore her up."
But eventually ...
"her garments, heavy with their drink,
Pull'd the poor wretch from her melodious lay"
down
"to muddy death."
Ophelia's death has been praised as one of the most poetically written death scenes in literature.
Millais's Ophelia has since come to be admired for its beauty and its accurate depiction of a natural landscape. It has been estimated to have a market value of around £30 million, or just under $47 million.