+JMJ+
Japanese Wood Block Print by Ito Shinsui (1898-1972)
(Source)
Ito Shinsui is a "famous son" of Japanese art because his art is blessed with elegance, sophistication, and serenity. This is equally matched with natural simplicity and adorable color schemes when applied to his images of beautiful ladies and landscapes. Therefore, if you want to imagine the natural beauty of "the old world" and the stylish nature of traditional Japanese fashion styles for ladies, then Ito Shinsui does this with panache, amazing color schemes and elegant depictions of stunning ladies.
Ito Shinsui (1898-1972)
Woman Wearing an Under-Sash
Indeed, the art work of Ito Shinsui is not only extremely beautiful and charming but the facial features of the ladies are very mysterious. This reality of the art work of Ito Shinsui is most striking. For he possesses a style which conjures up sublime beauty but within settings which are at one with nature and which don't need to be sensationalized
. (Source)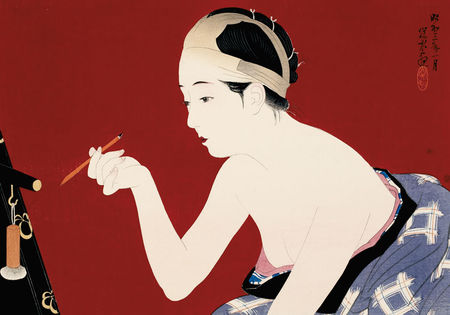 Itö Shinsui (1898 – 1972), Eyebrow Pencil, 1928.
Color woodblock print.
Gift of James A. Michener, 1984
(Source)
Green Garden by Ito Shinsui (1898-1972)
(Source)